You must allow cookies and JavaScript for a proper shopping experience.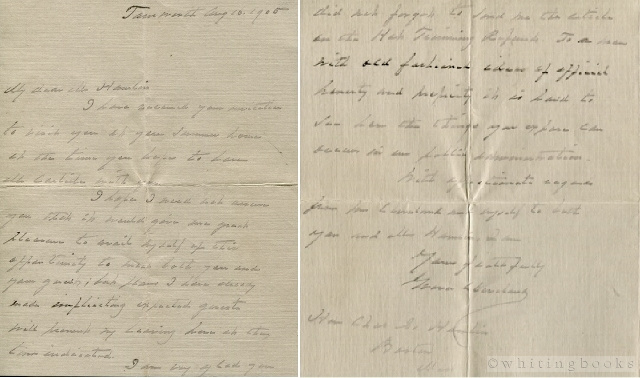 Price: $750.00
Publisher: : 1905
Seller ID: 10333
Binding: Soft cover
Condition: Very Good
---
Written at Tamworth, New Hampshire, where Cleveland had a summer home. Previously in the R.O. McNiel collection. Fine condition except for fold marks and penciling on the blank side. Single sheet, 6.5 by 10.5 inches, folded once to create four pages, of which only the first two comprise Grover Cleveland's letter. The letter is folded two more times to fit in an accompanying envelope with written notation: "Letter to C.S.H. from Mr. Cleveland" and "1905 Aug 16" on one side and a note of provenance on the reverse side (acquired from Mrs. Hamlin by R.O. McNiel). Both the letter and envelope are p...
View More...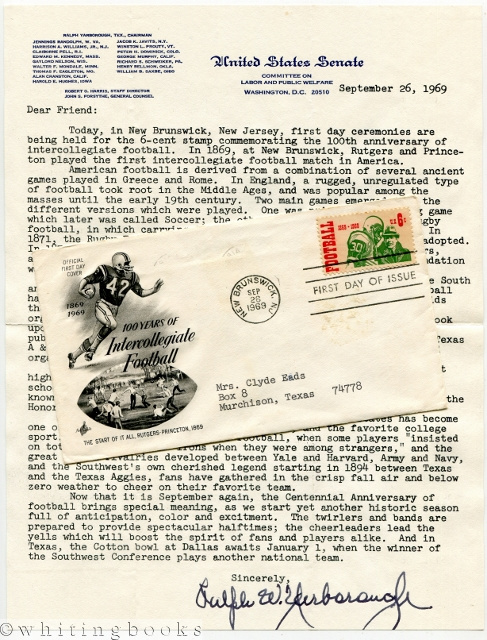 Price: $75.00
Publisher: : 1969
Seller ID: 011793
Binding: No Binding
Condition: Very Good
---
Very slight edge wear to the cover. Fold marks to the letter inside, otherwise fine. Illustrated Art Craft cachet cover depicting 100 years of intercollegiate football that started with a Rutgers-Princeton game in 1869. Postmarked New Brunswick, NJ (home of Rutgers University) Sep 26 1969 with First Day of Issue cancel. Enclosed is a Typed Letter Signed (TLS) from United States Senator Ralph W. Yarborough (Texas) on United States Senate letterhead. Yarborough was the Chairman on Labor and Public Welfare that year. In his letter, addressed Dear Friend, he recounts football's 100-year history an...
View More...